---
Are you still worrying about not having a place to put your clothes?

Clothes and pants piled up in a closet or drawer aren't easy to access and messy?

Use the compartment storage box to store your items, you can store your items quickly and neatly, making them easier to find! Say goodbye to clutter and keep your closet tidy.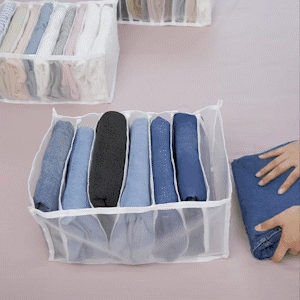 Main features
Widely used:
Very suitable for storing underwear, socks, scarves, leggings, skirts, t-shirts, jeans or other items. There are multiple compartments to sort and organize your belongings and keep your living space tidy.

Strong Practicality:
The storage box has 2 designs, which can meet all your storage needs and can solve most of your daily clothes storage problems. It can be folded to save space when not in use.


Saving Time and Space:
The storage box with visible grid is convenient for you to carry clothes, saving time and space, which greatly improves the utilization rate of wardrobe space. It can be used in multiple layers and keep your wardrobe and drawers clean and organized.


Quality Material:
Made of nylon mesh with fine workmanship, soft seams and durability. It is not easy to deform and will not collapse after use.
Easy to clean:
Mesh ventilation design is hygienic and clean, effectively reducing clothes odor and keeping clothes fresh. Thick oxford fabric edge, strong and not warped, machine washable.

Scenes to be used
Suitable for storage in drawers, dressing tables, bed bottoms, wardrobes, etc.