---
About This Item:
Let's be honest, our kids and younger relatives will undoubtedly love it. But deep inside, we all want to play with it. And the good thing is that it fits all ages. We have to find our inner child and make life more enjoyable. Why not let our inner child come back for a little while?
Treat your children to a bubbly SURPRISE with the mega fun bubble gun set.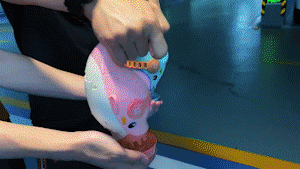 FEATURES:
 - Dolphin Bubble Machine has 10 bubble holes, which can produce a large number of bubbles.The bubble machine has cute appearance and cartoon shape, which can satisfy children's preferences and attract their attention.
- Environment-friendly material:  The bubble machine adopts environment-friendly non-toxic ABS material, with round corners on the surface without burr, and the handle is designed to fit the radian of the child's palm, which is not easy to fall off.

- Easy to use:  First, you can put 3 AA batteries into the bubble machine; Second, mix your bubble liquid and pour it into an empty bottle. When needed, dip the bubble machine into the solution and press the switch to enjoy the bubble time.The package contains only one bubble maker, one empty bottle, one bowl, no liquid and no battery (for bubble water: 1 cup water +1/3 dishwashing liquid + 1/2 teaspoon sugar, mix well)

- Perfect gift: bubble machine interesting and unique appearance design, promote the development of the child's imagination and creativity, his bubble machine not only is the best gift of 3-15 years old children, and is suitable for all kinds of gatherings, such as the carnival, birthday parties, baby shower, camping trip, Halloween, wedding, beach, back yard bubble party, etc.
[100% Satisfaction Guarantee] If you have any problems with your Bubble Machine, Feel Free to Message Us , We are here to help you
We are committed to providing you with better shopping.