---
If you suffer from bunions, hallux valgus deformity, or toe overlap, this orthopaedic bunion corrector is just what you need!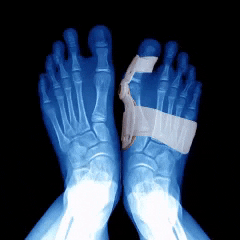 One-size-fits-all, it's comfortable, flexible, high-quality, and will provide you relief throughout the day while also helping to stretch the ligaments and tendons of the foot.
WHO NEEDS THIS?
If you have moderate to severe bunions, and they are not yet severe enough to warrant surgery, giving a bunion corrector like this one a try can be a great starting point.
They can also help with the postoperative treatment, maintaining the correct alignment of the toes.
The best way to use it:
Start using bunion corrector while sleeping or barefoot. Wear the splints for short periods of 30 minutes per day and then gradually increase the amount of time until you can wear them for a few hours a day.
How Can It Be Helpful?
Early stages
Maintaining the alignment of joints and slows the formation of bunions.
Helping to stretch the ligaments and tendons of the foot.
Post-operative
Maintaining the surgical alignment bringing comfort and relief from postoperative pain.
 

Before  /   After